Book And Cancel Appointments
The practice is currently experiencing high clinical demand. Our phone lines are very busy, please bear with us and we will answer as soon as possible.
We would ask any patients with minor ailments to consider alternative options, such as self-help with advice from the NHS website or by visiting a pharmacy.
Symptom Checker
If you think you need medical help right now, 111 online can tell you what to do next.
Speak to a Pharmacist
Your pharmacy can advise you on minor illness without the need for an appointment. Please speak to a pharmacist first.
Pharmacy & Self-Care
Pharmacists are qualified healthcare professionals who can offer clinical advice, over the counter medicines and their use, to effectively and safely manage a range of minor health concerns. They can also help you to decide whether you'll need to see a doctor. You don't need an appointment and you won't even be asked to make a purchase. Every pharmacy also has a private consultation area for you to talk about your symptoms in private if you prefer.
Self Referrals
You can self refer to a number of services without the need to see a GP
Please use the following links:
Sexual Health Dorset: A free contraception and sexual health service for all ages
Physiotherapy: Referrals are prioritised according to need. Those requiring urgent assessments will be seen within 2 weeks.
Live Well Dorset: Helping people living in Dorset lead healthier, happier lives
Steps2Wellbeing: A free NHS talking therapies service for adults over 18 years old in Dorset and Southampton City.
CAMHS: provides support to children and young people who are coping with significant mental health difficulties. If you are aged between 16 and 18 years, you can self-refer to their services via their Gateway website
Chat Health: Health for school age children
Minor Injury Unit: You can self-refer via 111 for all minor injuries including sprains or suspected fractures. 
eConsult
eConsult will allow you to consult with the clinical team online for matters that do not require a telephone or face to face appointment.

Our eConsult service lets you
Request advice and treatment from our practice online
Get self-help advice for hundreds of common conditions
Signpost to other health services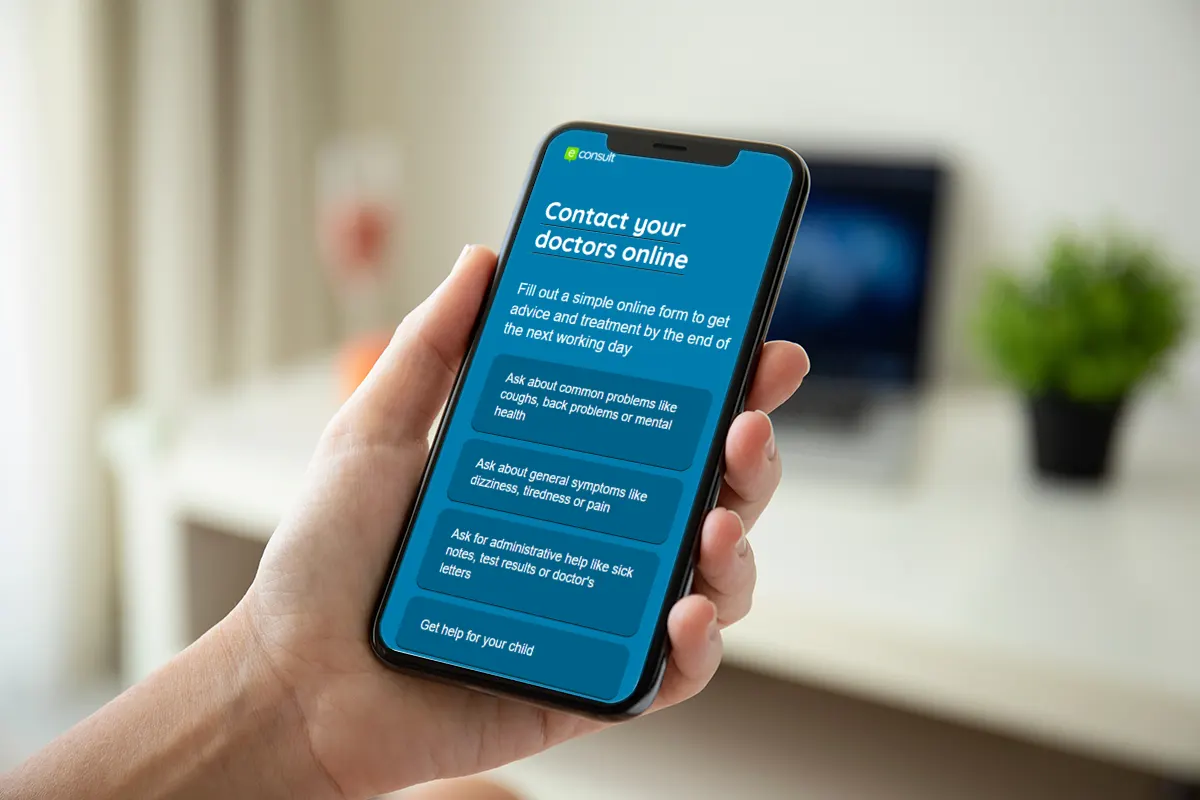 Book a Routine Appointment
Routine appointments can be made up to 5 weeks in advance.
You can make an appointment at your surgery either by calling in person, telephoning: Hadleigh House 01202 692268, Hadleigh Lodge 01202 694721, or registering to use our online booking system, registration forms are available from reception or you can complete our online form
If you have an urgent problem we will ensure you are seen on the same day as your request. We encourage our patients to see the same doctor on each occasion although we cannot guarantee an appointment with your usual doctor if you need to be seen as an emergency.
Book Online
Need to see a GP but can't get an appointment?
For your convenience some pre-booked appointments are now available Mon - Fri from 18.30 to 20.00 and on Saturdays from 08.00 to 11.00
Please note, you may not be able to see your own GP at these times. The extended hours appointments are intended to help those at work or who are otherwise normally too busy during office hours to attend. please consider whether you need one of these appointments as they are limited.  Please ask for details at reception.
Telephone Appointments
Patients are finding it increasingly convenient to have a telephone appointment
Our trained receptionist will ask a few questions to see if one can be booked. If appropriate you will be added to the doctors appointment list and they will either call you in the morning or afternoon. You will be advised which upon booking.
Home Visits
Please call us if you think you need a home visit.
Our trained receptionists will ask a few questions then you will added to the doctors appointment list. The doctor will call you and if they feel appropriate add you to the home visit list for that day. For continuity they will try and arrange your usual GP to visit, but this may not always be possible. 
Please remember that seeing you at home takes on average four times as long as seeing you in the surgery, so please help us by keeping home visits to a minimum.  Babies and small children can often be brought to the surgery, and we will do our best to ensure that they are slotted in and seen promptly
Sickness Certificates
If you are off work for 7 days or less, you do not need to give your employer a fit note or other proof of sickness from a medical professional.
Your employer may however require you to complete a self-certification form (SC2) which is available from your employer or you can download it from the HMRC website.
You must give your employer a doctor's 'fit note' (sometimes called a 'sick note') if you've been ill for more than 7 days in a row and have taken sick leave. This includes non-working days, such as weekends and bank holidays.
Taken sick leave for more than 7 days in a row? Please complete the sicknote request form here.
Life Threatening - Go to A&E
If you or someone you know has a life-threatening condition, such as loss of consciousness, a sudden confused state, chest pain, breathing difficulties etc, you should call 999
In an EMERGENCY call 999.
Emergencies are situations that cannot be managed at home and may be life threatening
Make The Best Of Your Appointment
Please remember that your appointment is only scheduled for 10 minutes
Ask yourself: How important is it that I'm seen quickly, or would I be better waiting for an appointment with a particular GP? If you have a long-term condition you'll probably benefit from a GP who knows you.
Don't be put off by a GP who runs late: they may be spending needed time with patients. One day you may appreciate them running late for you.
It's tempting to bring a list of unrelated problems but consider what is achievable in 10 minutes. 4 problems in 10 minutes? That's 150 seconds each. It's often better to come back again and spend more time on a problem rather than squeeze as many as you can into one ten minute appointment.
Before you see the GP: work out in your own mind what you're worried about and highlight any particular concerns. Consider preparing short notes; including how you would describe your symptoms.
Get to the point: don't beat about the bush and don't keep important issues until the end.
Wear accessible clothing if you're likely to need to undress for examination.
Make sure you understand what happens next: If you are not sure, ask to go through the plan again.
Have your say and get your views heard: Join our Patient Participation Group.
Cancellations
If you cannot attend an appointment for any reason please inform us as soon as possible in order for us to give the slot to someone else.
We use cookies to help provide you with the best possible online experience.
By using this site, you agree that we may store and access cookies on your device. Cookie policy. Cookie settings.
Functional Cookies
Functional Cookies are enabled by default at all times so that we can save your preferences for cookie settings and ensure site works and delivers best experience.
3rd Party Cookies
This website uses Google Analytics to collect anonymous information such as the number of visitors to the site, and the most popular pages.
Keeping this cookie enabled helps us to improve our website.